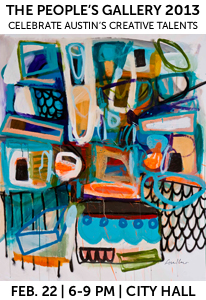 Every year, the City of Austin hosts an annual exhibit of artwork by a great diversity of artists from our local community. The Economic Growth and Redevelopment Services Office has announced the ninth annual People's Gallery exhibition at Austin City Hall, officially opening on Friday, February 22 with an opening reception from 6:00 to 9:00 p.m.
The public is invited to meet the artists and view the exhibition, which features more than 100 artworks on loan from local artists, art organizations, museums, and galleries. Light refreshments will be provided by Whole Foods Market, and selected short films from the Faces of Austin collection will screen in Council Chambers.
The 2013 exhibition includes special exhibits by Mondo Gallery and the Serie Project! The People's Gallery exhibit will feature selections from Texas artists who participated in our 2012 Artist in Residence Program: Adriana Corral, Carlos Donjuan, Jessica Halonen, and Michael Menchaca.
For more information about the People's Gallery, please visit the City of Austin website.